Christine Pilgrim has created a new character to add to her already full list that includes artist, Emily Carr; gold rush pioneer, Catherine Schubert; and old-fashioned schoolma'am, Mrs MacPherson.
'Grimble' tells stories to students between Kindergarten and Grade 7 using either the classroom, library or gym.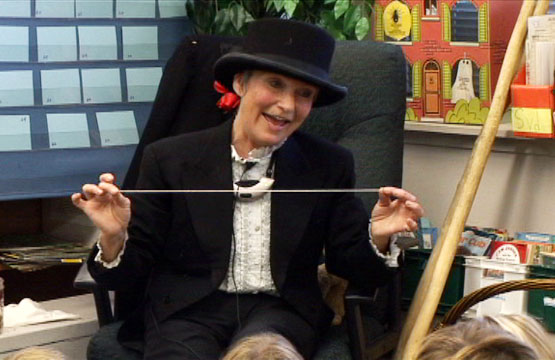 'Grimble' tells stories to Grade 3s at BX Elementary School
She asks students which story they'd prefer from a list of Silly, Short, Sad, Special and Scary. Some are classics by such authors as Oscar Wilde and Rudyard Kipling; others she has written herself. She also tells stories adapted from her one-woman history shows.
The interactive story she has written about Pwince Fwedwick and His Toys has many 'green' lessons embedded in it, along with some math, science and spelling ones. It also inspires students to use their imaginations to make their own toys, stories and plays.
Workshops in simple toy-making, story-telling and creating a play are offered to accompany this program.
Excerpts from two of Grimble's stories
This story tells part of a traditional tale about Silly Jack
The Story of Pwince Fwedwick and Fff-Bear written and told by Christine Pilgrim, as "Grimble," to Grade 3 students at BX Elementary School in Vernon.